News
Best crypto trading bots and bitcoin robots 2022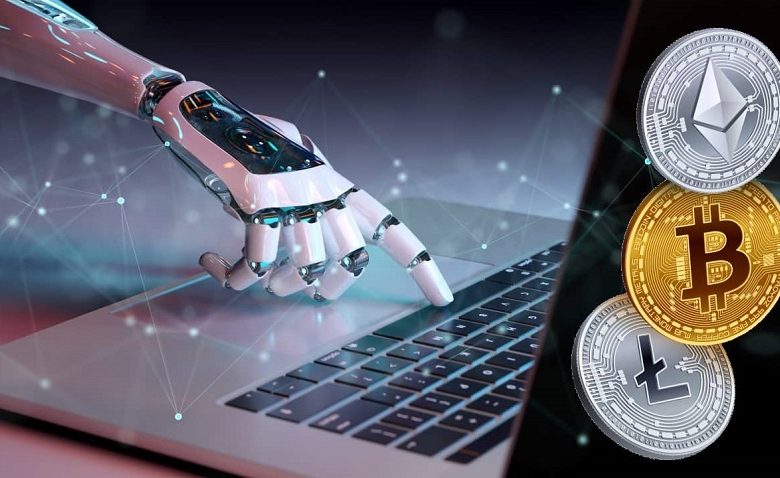 This year 2022 should see an acceleration in the adoption of Bitcoin (BTC) and cryptocurrencies, not to mention new booming sectors such as NFT or DeFi decentralized finance which have experienced strong growth in 2021.
Increasingly popular, crypto trading bots and bitcoin robots are increasingly used thanks to new innovative companies, Kryll for example, that make these crypto trading bots ever more modern and efficient.
Whether they are aimed at professional traders who want to create elaborate trading strategies or individuals who just want to do automatic copy trading, crypto trading bots allow everyone to automate bitcoin and cryptocurrency trading in order to offload the stress and monitoring work required in a traditional trading activity.
Operating 24/7, crypto bots save you from having to sit for hours in front of a screen monitoring the price of BTC or other cryptocurrencies.
These trading bots will place buy or sell orders on crypto exchanges such as Binance, Coinbase or Kraken for you while you sleep or when you are busy doing something else.
In a booming crypto trading industry, the offering of automated trading products and services continues to evolve. Some platforms continue to improve and modernize their crypto trading bots while newcomers try to shake up this market by launching their crypto bots.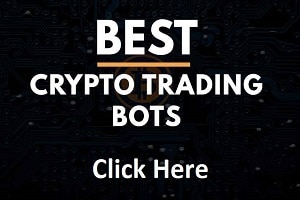 In this comparative guide of the best crypto trading bots and Bitcoin robots 2022, we will therefore see which are the most efficient trading bots on the market. It should also be noted that no company listed in this ranking has paid to be included in these reviews, we have established this guide according to the crypto trading bots which seem to us to be the best on the market today.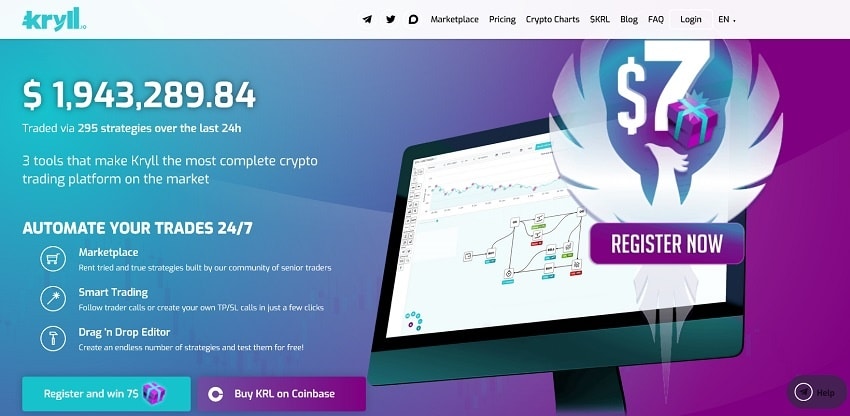 Present since 2018 on the automated crypto trading and copy trading market, the leader Kryll consolidates its position as number 1 in our ranking of the best trading bots 2022.
A professional team that is growing while continuing to improve its crypto trading bots accompanied by free technical support in english but also in french and spanish.
Kryll has the advantage of offering automatic crypto trading services for professional traders as well as for the general public and individuals who do not have skills in trading and technical analysis.
A pro trader will indeed find all the tools and technical indicators to build elaborate crypto trading strategies (Smart trading, SuperTrend, Commodity Channel Index (CCI), On Balance Volume (OBV), stop loss, take profit, Ichimoku, automated trade, Bollinger, Macd, RSI, CandleStick blocks and Candlestick Patterns, grid trading, …).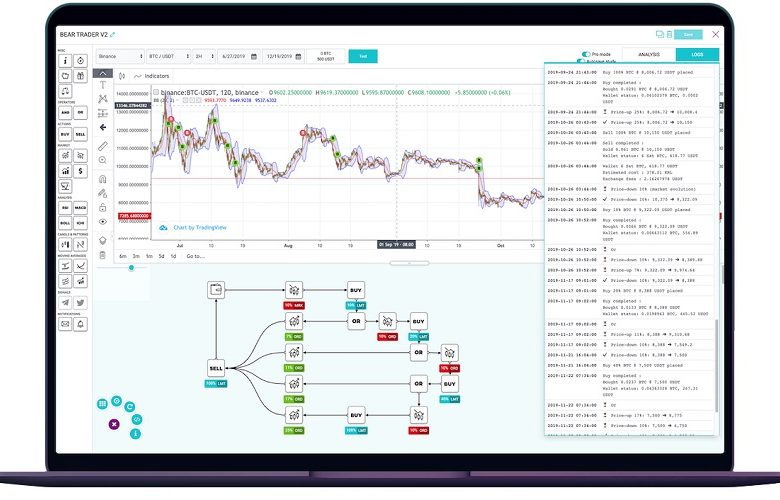 In a few clicks and via an API key, you connect a bitcoin trading bot to your account on on Binance, Binance US, Binance Futures, Coinbase, Kraken, FTX Exchange, HitBTC, Kucoin, Bittrex, Liquid..
Trading robots take over by placing your buy or sell orders without having to monitor the markets 24/7 because crypto trading never stops.
In order to operate the trading bots, the platform uses its KRL token which you can buy on Kucoin, the available trading pairs are KRL/USDT and KRL/BTC.
Beginner traders or individuals without trading skills can do copy trading on the Kryll marketplace or learn crypto trading thanks to the many free guides and tutorials available on the Kryll blog or their Youtube channel which offers many educational videos.
A very complete marketplace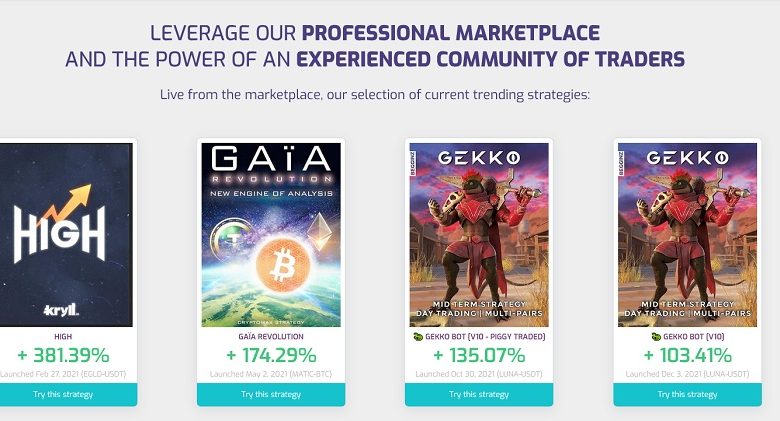 Kryll has a very comprehensive marketplace that offers many crypto trading strategies made available by professional traders. A new version is planned for 2022.
It is possible, in a few clicks, to start a ready-made copy trading strategy for automated trading of Bitcoin BTC, Ethereum ETH, Ripple XRP, Cardano ADA, Solana, Dogecoin, Shiba Inu, BNB, etc.
Users who do not have trading skills can therefore use the experience and knowledge of experienced traders who offer their trading strategies ready to use immediately.
Thanks to this marketplace, professional traders can generate passive income through the users who will rent their crypto trading strategies.
If you want to have an overview of the trading strategies available on this marketplace: click here.
An iOS and Android mobile application is also available to monitor your account and your trading strategies.
Another big advantage, Kryll does not charge a fixed price or monthly subscription, you only pay when you use the platform.
The testing of trading strategies is also free, a technique called backtesting, you only pay when you switch to real mode on the markets.
Automatic trading of Bitcoin futures (Bitcoin futures) is currently in Beta version, the official launch is planned for this year.
Opening an account on Kryll is free: click here to open an account and get 7 dollars offered to test the platform for free!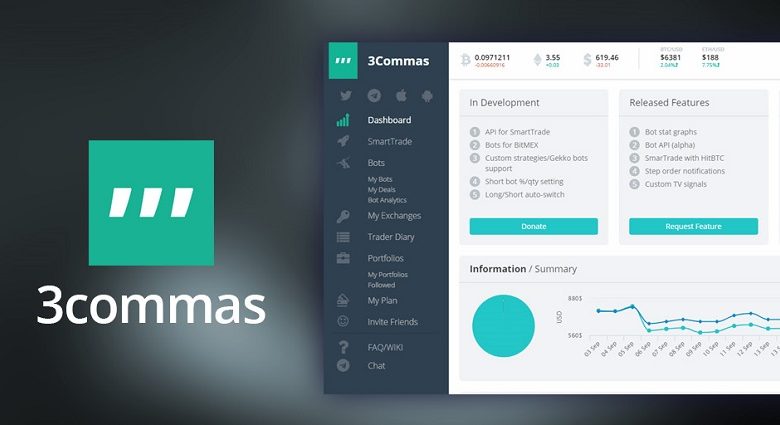 Update December 29, 2022: Beware, thousands of 3Commas API keys have been stolen by hackers, click here to learn more.
It is best to use Kryll, renowned for its security.
3commas retains its 2nd place in our ranking of the best crypto trading bots, just like Kryll, this platform launched in 2017 offers professional tools to create elaborate trading strategies for experienced traders.
Options trading is also possible on this platform, not to mention smart trading, grid trading, DCA bots, terminal trading, trading view integration.
A crypto trading bot platform that will be of particular interest to traders specializing in bitcoin futures trading (crypto futures) thanks to the access available to crypto exchanges such as Bybit, Deribit, BitMEX, Binance futures or Kraken futures.
While it's geared more towards pro traders, it also offers a marketplace with trading signals for hire for users who don't have trading and technical analysis skills, or for those who simply don't have the time or the motivation to create a crypto trading strategy.
Strong point of 3commas, the platform is available in several languages: French, English, German, Spanish, Portuguese, Chinese, Russian.
One of the strengths of this automatic crypto trading platform is the large number of integrated crypto exchanges including Binance, Bitfinex, Bitmex, Bitstamp, Bittrex, Bybit, Coinbase Pro, Deribit, FTX, Gate.io, Gemini, Huobi, Kraken , Kucoin, OKex, Poloniex.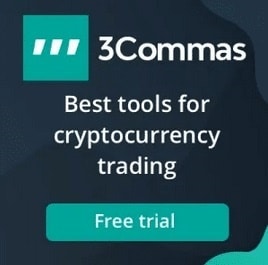 3commas also has a mobile application on iOS and Android.
Access to 3commas crypto bots and Bitcoin robots is by monthly subscription, there are different pro and beginner formulas, the prices therefore vary depending on the options you want to have.
There is a discount on long-term subscriptions, a free trial offer is offered to new subscribers.
If you want to test 3commas trading bots for free: click here.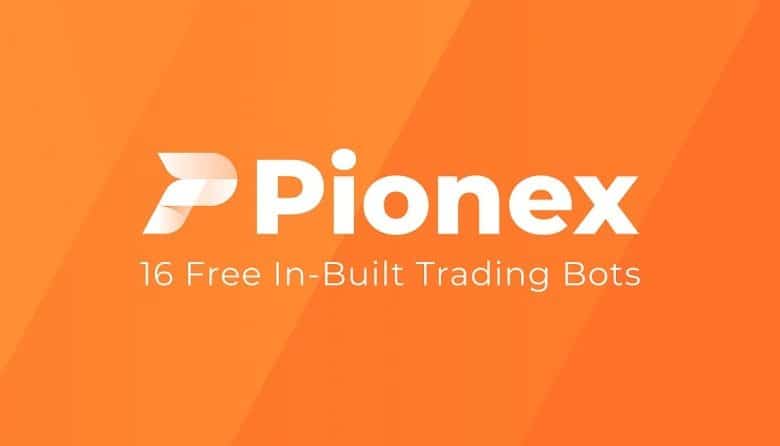 New to the crypto trading bots market, Pionex bets on simplicity, this platform aims to be a cryptocurrency exchange that offers many ready-to-use free trading bots.
This means that you can simply select a crypto trading bot and have it running on your account immediately, you don't have to connect to another crypto exchange. You will therefore need to buy cryptocurrencies on this platform in order to be able to do automated trading.
Pionex has the particularity of being a crypto exchange with integrated trading bots, on its platform it uses the liquidity of Binance and Huobi.
No complicated configurations. No need to learn or master technical analysis, everything is easily laid out and ready to use.
Another advantage, the interface is available in English, French, German, Spanish, Portuguese, Russian, Chinese, Thai, Korean, Turkish, Arabic, Japanese, Indonesian.
Pionex also offers a mobile trading platform through its apps for Android and Apple iOS smartphones.
No monthly subscription on Pionex, you only pay for use, 0.05% for each transaction carried out by the crypto trading bot, if you wish to use these crypto trading bots made available to you free of charge on the platform.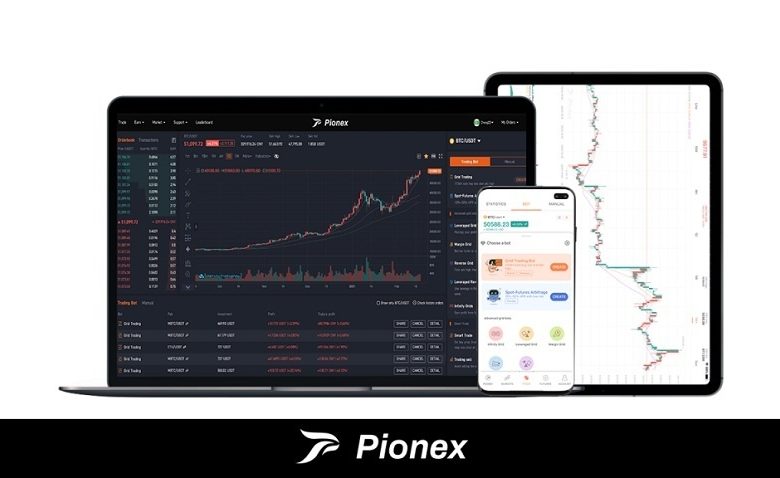 Among the many ready-to-use automated trading bots that Pionex offers are:
Smart Trade:
The Smart Trade terminal allows traders to set up a stop-loss and take profit in a single trade.
DCA Bot:
The Dollar-Cost Average (DCA) crypto trading bot comes with a feature that allows you to set the period of your cryptocurrency purchase plan. The bot helps you regularly buy BTC or another cryptocurrency of your choice.
This makes it possible to minimize variations in the price of a cryptocurrency by buying it at different price levels.
GRID Trading Bot:
Grid trading bots are ideal when you need to generate profits from fluctuating markets. The Grid Trading Bot allows users to buy low and sell high within a specific price range.
Trailing Take Profit Bot:
You can use the Trailing Take Profit Bot to scalp BTC and cryptocurrencies during market volatility.
Leveraged Grid Bot:
The Leveraged Grid Bot comes with a loan feature that allows leveraged trading. Risky trading, beware of the risks of liquidation if the market does not move in the direction of your positions.
Margin Grid Bot:
As its name suggests, this trading bot allows you to do margin trading, margin trading and place LONG or SHORT positions on bitcoin and other cryptocurrency trading.
Reverse Grid Bot:
This trading bot will sell your bitcoins at higher prices and buy them back when they are low.
Leveraged Reverse Grid Bot:
This bot is a combination of the Reverse Grid Bot with crypto lending functionality. There is a built-in leverage feature which allows you to earn more but exposes you to liquidation in the event of a reverse market movement.
We tested the customer technical support which is very fast.
There are other crypto trading bots to discover on the Pionex interface, opening an account is free: click here.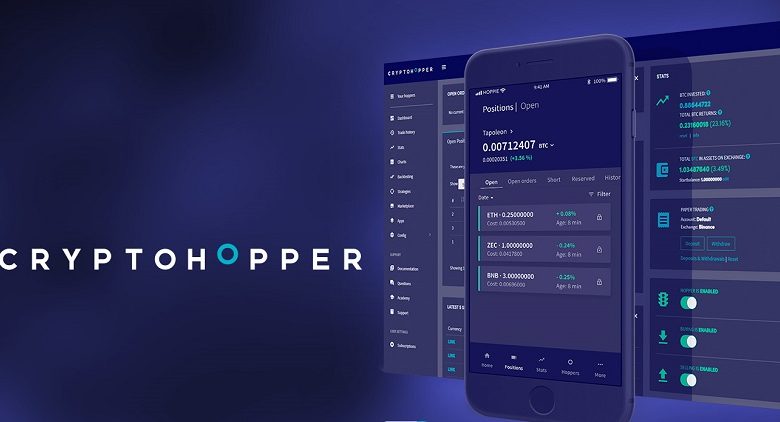 Always present in our ranking of the best crypto trading bots, Cryptohopper continues to offer a complete platform combining tools and advanced technical indicators to create elaborate trading strategies, as well as a marketplace allowing neophytes to rent ready-made trading strategies to do copy trading.
We regret that the platform is only in English, which complicates its use for foreign users who do not understand this language well enough.
Like on Kryll, Cryptohopper offers an interface that works in drag and drop with effective and practical tools for creating trading strategies (market making, exchange/market arbitrage, backtest, trailing stop loss orders, dollar cost averaging (DCA), trailing stop loss, arbitrage bot, RSI, Bollinger Bands, etc…).
Professional automated trading platform launched in 2017, Cryptohopper allows automatic trading of BTC and cryptocurrencies on many crypto exchanges connectable via an API key including Binance, Binance US, Bitpanda, Hitbtc, Coinbase Pro, Bittrex, Huobi, Kraken, Kucoin, Poloniex, Bitfinex, Exmo, OKEx and Bitvavo.
For individuals without trading and technical analysis skills, or for traders who do not want or have the time to develop a complicated trading strategy, Cryptohopper has a marketplace where it is possible to rent trading strategies developed by experienced traders.
A simple and fast solution that allows you to do copy trading in a few clicks on the platform.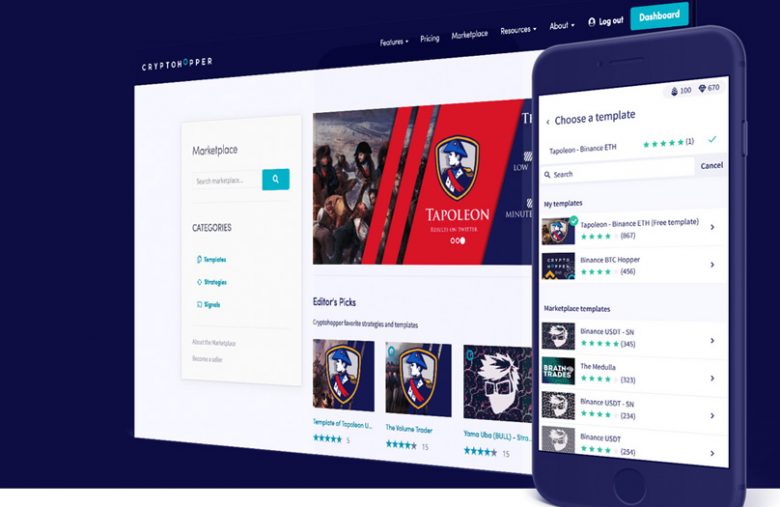 A Cryptohopper mobile app is available on Apple iOS and Android.
Access to the platform and the creation of Bitcoin trading bots is by monthly subscription, prices that vary depending on the options you want to benefit from. A free offer limited in features allows you to discover the platform and its tools
Opening a cryptohopper account is free: click here.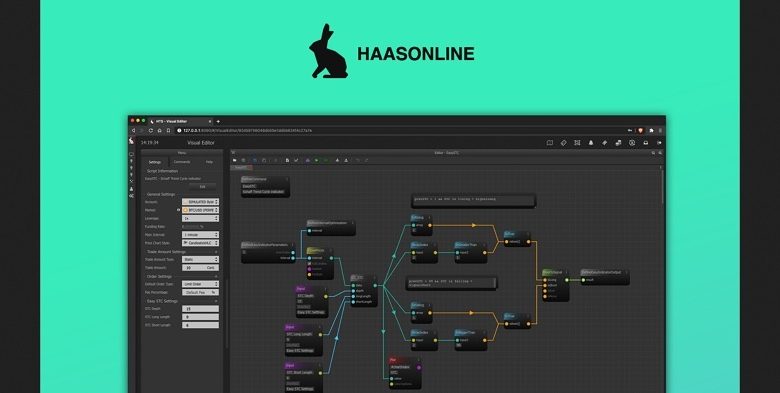 Haasbot are crypto trading bots for professional and experienced traders, more specifically for leveraged trading, institutional and advanced trading thanks to the integration of many specialized crypto exchanges such as Bybit, Bitmex, Deribit, …
Haasonline is only available in English.
Present since 2014, hassbot trading bots allow automated trading on many crypto exchanges such as Binance, Binance Futures, Bitfinex, Bitstamp, Bittrex, Bitmex, Bitpanda, Bybit, CEX, Coinbase Pro, Deribit, FTX Exchange, Gemini, Hitbtc, Huobi, Ionomy, Kraken, Kraken Futures, Kucoin, OkCoin, OKex, OKEx Futures, Poloniex.
Its new product HaasOnline Cloud should be launched in 2022, it will notably offer a marketplace as well as copy trading.
Without an iOS/Android mobile application, this crypto bot platform is therefore aimed at computer-savvy pro traders who wish to build sophisticated trading strategies, in particular for trading Bitcoin futures on Binance Futures, Kraken futures, OKEx futures, Bitmex, Deribit.
Access to Haasbot trading robots is by monthly subscription payable in bitcoin (BTC), with discounts for 3, 6 and 12 months.
If you want to test these crypto bots, open a free account on Haasonline: click here.
Conclusion
The leader Kryll remains at the top of this ranking of the best crypto trading bots 2022, an automated crypto trading platform that is constantly improving and perfecting itself.
It has the advantage of addressing pro traders looking for sophisticated tools, as well as individuals without trading skills who just want to do copy trading, while offering free customer technical support in different languages.
Professional traders looking for advanced tools can test the different platforms listed in this comparative review, some platforms may have technical indicators that are not yet integrated on others for example.
In order to find the crypto trading bot that suits you, the best thing to do is of course to register with each automated crypto trading platform in order to try them out and see which crypto trading bots suit you and best meet your expectations.
Reviews and tests of these crypto trading bots are not financial advice, do your own research before investing your money in trading. Using trading bots does not guarantee that you will automatically make easy money, crypto trading bots are subject to the same risks on the markets as human traders.
TO READ ALSO: