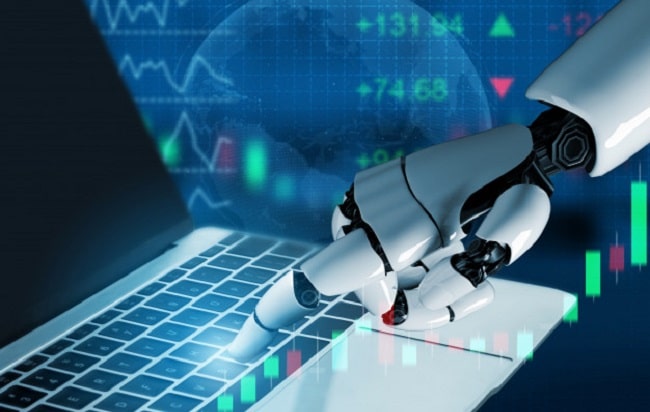 Automated crypto trading with Bitcoin bots and crypto trading bots is booming.
As we have seen in various articles, the Coronavirus/Covid19 crisis has notably led many trading companies to use trading bots in order to replace professional traders confined ind their homes.
The general public and individuals in quarantine have also invested in BTC trading with crypto trading bots, in particular by renting trading strategies on websites like Kryll, one of the leaders in automated crypto trading.
While the best crypto trading strategies on the Kryll marketplace are not free, of course, there are also free trading strategies that you can use for free and trade Bitcoin or other cryptocurrencies that you like.
We will therefore see in this guide the best automated crypto trading strategies for Bitcoin BTC but also Ethereum, Litecoin, BNB as well as other altcoins on the market.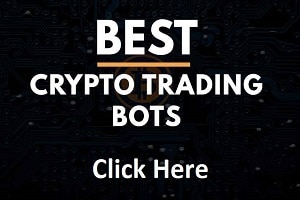 In order to be able to use these free trading strategies, you must of course have an account on Kryll.
Registration is free, tests and backtests are unlimited and free on the platform: Click here to register.
Platform in English and other languages such as spanish or french with free customer support.
So let's see what are the best free trading strategies to use with a Bitcoin bot or a crypto bot.
Free Bitcoin trading strategy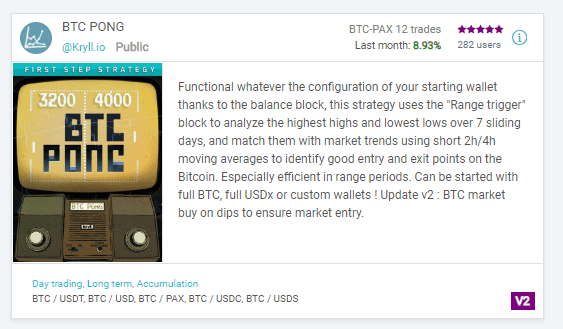 Let's start with a free trading strategy for Bitcoin, the market's number one and most requested cryptocurrency.
The BTC Pong trading strategy is therefore intended to trade Bitcoin with Kryll crypto trading bots, Bitcoin which remains the most requested cryptocurrency in trading.
Functional whatever the configuration of your starting portfolio thanks to the balance block, this strategy uses the "Range trigger" block to analyze the highest and the lowest on 7 rolling days, and to match them with the market trends using short 2h/4h moving averages to identify the right entry and exit points on Bitcoin BTC.
A particularly effective Bitcoin trading strategy in BTC range periods.
The v2 update incorporates the purchase of Bitcoin price dips to ensure market entry.
If you want to focus on automatic Bitcoin trading, this free BTC trading strategy is therefore the best positioned on the Kryll marketplace.
The free Super Bollingo trading strategy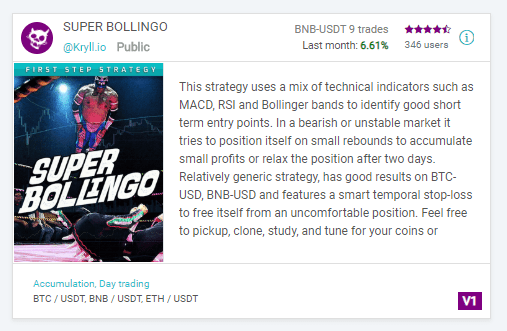 As the name suggests, this automated crypto trading strategy hints at the Bollinger Bands indicator.
This free trading strategy uses a mix of technical indicators such as MACD, RSI and Bollinger Bands to identify good short term entry points.
In a bearish or unstable market, crypto bots and Bitcoin bots try to position themselves on small rebounds to accumulate small profits or soften the position after two days.
Relatively generic strategy, it allows to obtain good results on the trading pairs BTC/USD, BNB/USD, ETH/USDT and has an intelligent temporal stop-loss to free itself from an difficult position.
A free crypto trading strategy which is therefore aimed at fans of MACD, RSI and Bollinger bands and who would like to take advantage of a ready-made strategy that you just need to install on your Kryll account in a few clicks.
Free grid trading strategy for trading bots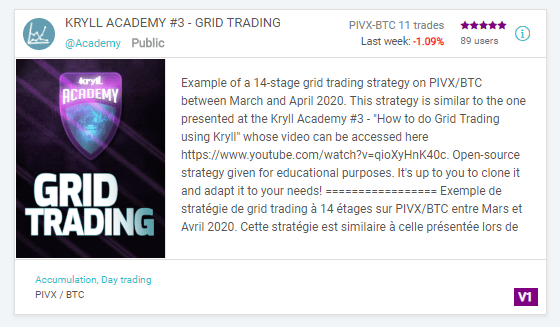 Grid trading strategies are increasingly popular with professional and novice traders.
Very popular in forex trading, grid trading can also be applied to trade Bitcoin and crypto currencies with crypto robots and Bitcoin trading robots.
Kryll therefore offers this free grid trading strategy for fans of this type of trading.
This automated grid trading strategy works on the PIVX/BTC pair and can be installed in a few clicks on your Kryll account.
Below is a screenshot of the Kryll interface with this automated grid trading strategy:

An open source strategy, you can of course copy this free strategy to get a clone and trade on another cryptocurrency that you prefer.
Free long-term crypto trading strategy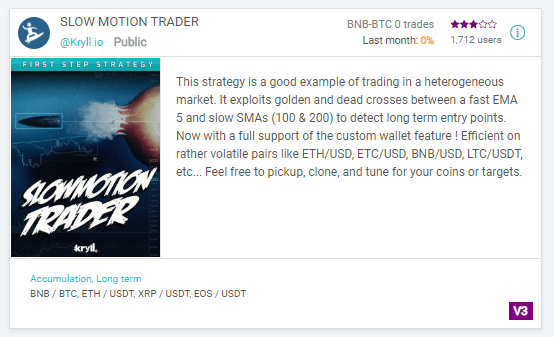 Its name Slow motion refers to a long-term trading strategy.
This free crypto trading strategy thus uses Golden Cross and Dead Cross between a fast EMA 5 and slow SMA (100 and 200) in order to detect long-term entry points.
There are automated crypto trading strategies for all types of trading, short term, long term, day trading.
The Slow Motion Trader is therefore aimed at traders who want to install an automated trading strategy that will accumulate over the long term.
This free crypto trading strategy is effective on rather volatile trading pairs like ETH/USDT, EOS/USDT, BNB/BTC, LTC/USDT, etc.
All of these strategies are offered for free by Kryll.
The cherry on the cake, you can copy and modify them as you wish to learn trading or improve them if you already have knowledge in trading.
The only limit is your imagination!
Conclusion
So, there you have several Bitcoin and crypto trading strategies to use for free on the Kryll platform, by installing these strategies on your account in a few clicks, everything is automatic.
First, test these free trading strategies on your account.
Tests and backtests (tests on data from the past) are free and unlimited with a history of up to 7 years!
If you don't already have a free kryll account: Click here to open one.
These strategies are available in the marketPlace, once identified on the Kryll platform, click on the search field at the top right and type the name of the strategy, example: "pong"
Remember that trading Bitcoin and cryptocurrencies is a risky business, this article is not financial advice, be responsible with your money.
You can see our guide with the best Bitcoin trading tips as well as our selection of the best crypto trading bots and Bitcoin bots on the market.
TO READ ALSO: