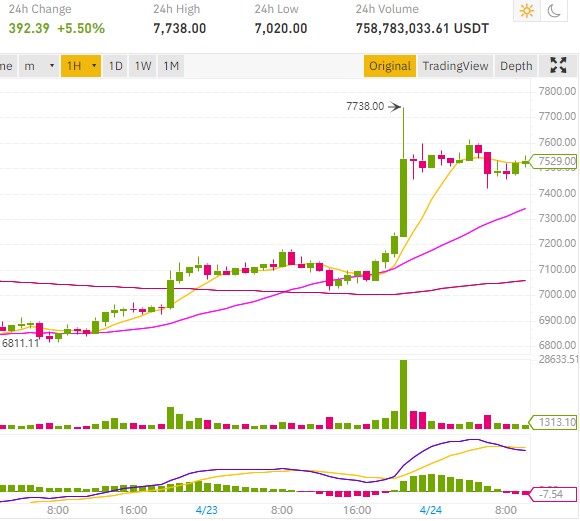 Is it a pre 2020 Bitcoin halving BTC price pump or a simple price movement to squeeze the shorts of traders who saw rather a price drop looming?
We will have to wait to find out and see if the Bitcoin price remains around the $7,528 level where it is now to fetch the $8,000 or fall back finally.
Yesterday, the Bitcoin price indeed went to get the 7,738 dollars on Binance.
A BTC price which has since retraced to the level of $7,530 currently.
The Ethereum price also peaked at $193.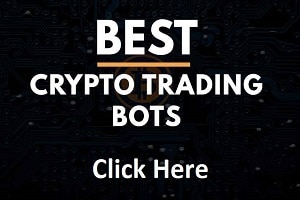 The Ripple XRP price rose to $0.199.
The Cardano (ADA) price is up 16%.
The entire cryptocurrency market is therefore in the green with a BTC price which leads the market as usual.
The Bitcoin halving event is highly anticipated with the hypothesis of a bullish rally by the date of this halving which would occur around May 12, 2020 according to the hashing rhythm of BTC blocks.
A BTC halving which takes place every 4 years and which is therefore the event of the year 2020 awaited by the crypto community and by traders who would like to see a bullish Bitcoin price, with in perspective the 9 or 10 000 dollars to the date of this halving.
Market conditions are clearly not the same as 4 years ago during Bitcoin's last halving.
There are many more people trading BTC, Bitcoin Futures and margin contracts have appeared without forgetting new players in trading like Kryll whose Bitcoin bots and crypto trading bots are more and more used by traders and the public.
The Coronavirus/Covid-19 crisis has also modified the current economic data, during the stock market crash of March 2020, the Bitcoin price followed the world stock markets in the fall.
So there are a lot of elements that cause uncertainty about the BTC price after this Bitcoin halving and the direction that the Bitcoin price will take before and after this halving.
In the past, the Bitcoin price has seen its price increase significantly in the months following BTC's halving.
It remains to be seen whether it will be the same with this 2020 Bitcoin halving, the latest Bloomberg report sees a Bitcoin bull run coming as in 2017, read our article on this subject: click here.
TO READ ALSO: