Bitcoin News
FOMO on Bitcoin before the BTC halving in May 2020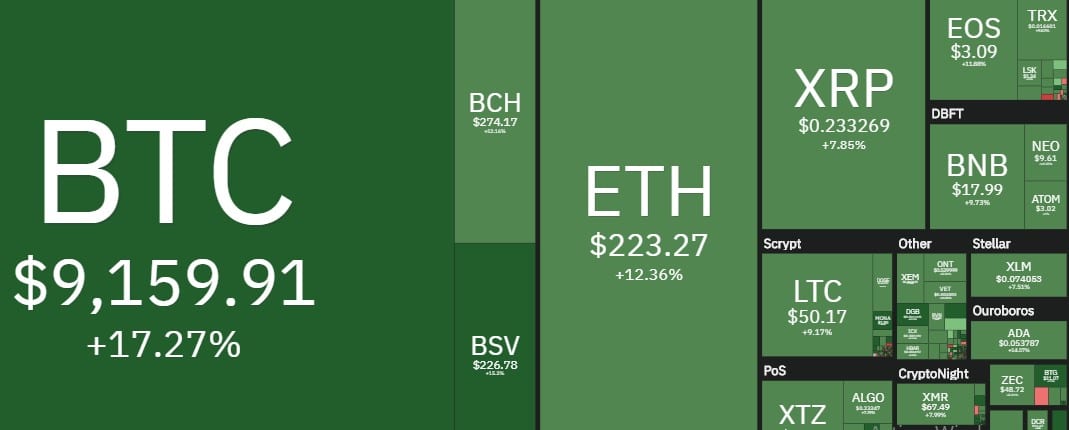 We talked previously about a possible FOMO wave on Bitcoin BTC (fear of missing out) that could occur before the BTC halving in May 2020.
Indeed, the figures speak for themselves with the Bitcoin price jumping to 9236 dollars on Binance, a 17% increase!
The BTC price has gained almost 1,500 dollars since yesterday with a Bitcoin price currently around $9,250 at the time of writing and which is constantly moving.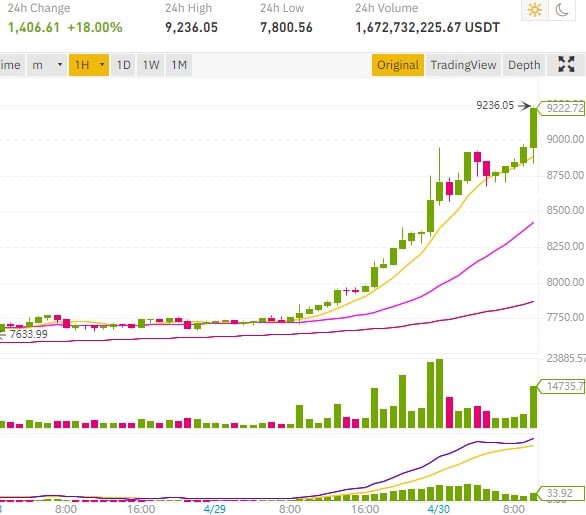 The Ethereum price is pumping too, after breaking the 200 dollar mark, the ETH price is currently around 223 dollars!
The Ripple XRP price had started to rise the day before and is around 0.23 dollars.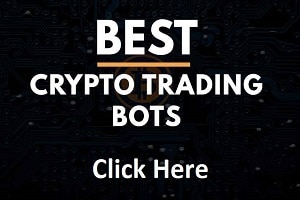 The Litecoin price at 50 dollars.
Financial markets and stock markets like the Dow Jones were also up amid hopes of a Coronavirus vaccine in a few months.
Altcoins are also up following the Bitcoin price rally
Link and Tezos XTZ prices were up 7%.
The Omisego price up 17%.
The Cardano price (ADA) up by more than 12%.
ZIL, Vechain VET, ETC prices also up 12%.
WTC price is up 4%.
See the price of cryptocurrencies in real time: click here.
Large volumes of trading on crypto exchanges, Kraken and Coinbase did not keep up with the increase in demand and their servers crashed!
Binance CEO Changpeng Zhao said Bitcoin trading has reached its highest level of trading volume in Bitcoin, $11 billion in 24 hours, he said.
ATH in trading volume on @Binance, $11 billion in 24 hrs. https://t.co/lx27tfP8Db

— CZ Binance 🔶🔶🔶 (@cz_binance) April 29, 2020
Despite a DDoS attack yesterday, Binance has held up well and thus consolidates its place as world leader in Bitcoin exchanges.
Bitcoin automated trading is soaring too, the automated crypto trading platform Kryll also noticed a significant increase in the trading volume of BTC which is done by Bitcoin bots and crypto bots.
As we have seen in several articles, the Coronavirus/Covid19 crisis and the confinement of the quarantined population have led many people to trade Bitcoin at home in order to make money with cryptocurrencies.
Crypto exchanges like Kraken have seen sign up soar.
Fomo on Bitcoin before the long-awaited BTC halving event was possible as we discussed in several articles.
A halving that will take place around May 12 and therefore the question that arises on the evolution of the Bitcoin price from here to this date!
Some had announced a maximum of $8,000 for the price of BTC before the halving and we are already at $9,000.
If the wave of fomo and purchase were to continue, we can consider a Bitcoin price much higher therefore, this speculative and volatile market is the playground of many smart whales to push up the price of Bitcoin in order to attract a maximum of buyers before reselling to take the most profits.
So, it is not possible to predict what will happen, many have sold before 8000 dollars thinking that the Bitcoin price will stop there but it is an impressive pump which happened with a jump of 1500 dollars !
It is certain that the BTC price will not go up infinitely and that it will correct, when? Possibly before the BTC halving date.
An event that takes place every 4 years, the rise in the Bitcoin price should attract many buyers who might think that the price of BTC will continue to rise after the halving.
Rather, Bitcoin's history shows a decline after the halving and a price rally several months after BTC's halving, but nothing can be predicted in a market that has changed a lot in recent years.
Follow Bitcoin Crypto Advice on Facebook or Twitter and don't miss any Bitcoin news!
TO READ ALSO: