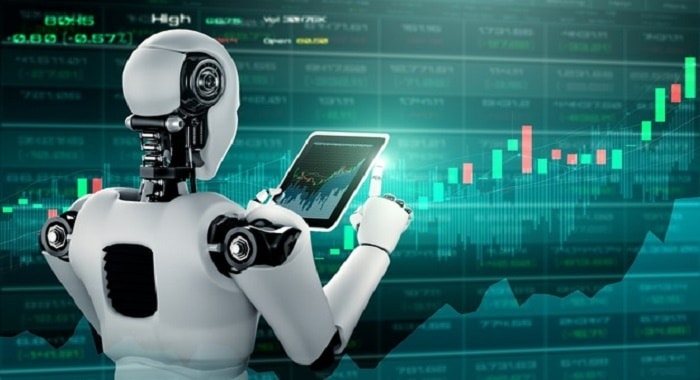 A new year is starting, here is our ranking of the best crypto trading bots and Bitcoin robots for 2021.
First in our ranking of the best crypto trading bots 2020, will Kryll be the best automated crypto trading platform again in 2021?
This is what we will see in this tutorial guide about the best Bitcoin trading bots, also the opportunity to take a look at what's new on the best automatic crypto trading platforms.
The success of crypto bots and automated crypto trading is remarkable, the number of traders attracted to the use of trading bots continues to increase each month.
State-of-the-art platforms will allow you to create a Binance bot, a Kraken bot, a Kucoin bot, which will trade for you on the markets, 24 hours a day, 7 days a week.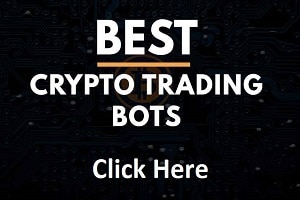 The rise in Bitcoin and cryptocurrency prices is an opportunity to automate your trading and let these crypto trading bots work to accumulate Bitcoin BTC, Ethereum, Ripple XRP, LTC, …, while you sleep or are busy with other things in your daily life.
Not to mention decentralized finance and DeFi token trading which attracts more and more traders and investors for projects like Uniswap (UNI), Yearn Finance (YFI), Synthetix (SNX), Aave (LEND), Sushi Swap, …
The general public and individuals are also at the here thanks to platforms that offer marketplaces where it is possible to rent ready-to-use trading strategies in a few clicks, in order to copy trading the best traders.
If you are looking for a Binance trading bot, an Ichimoku bot, a free trading bot more elaborate than the gekko bot, we have selected the best trading robot 2021.
Review of the best bitcoin trading bots on the market, let's see our ranking for 2021.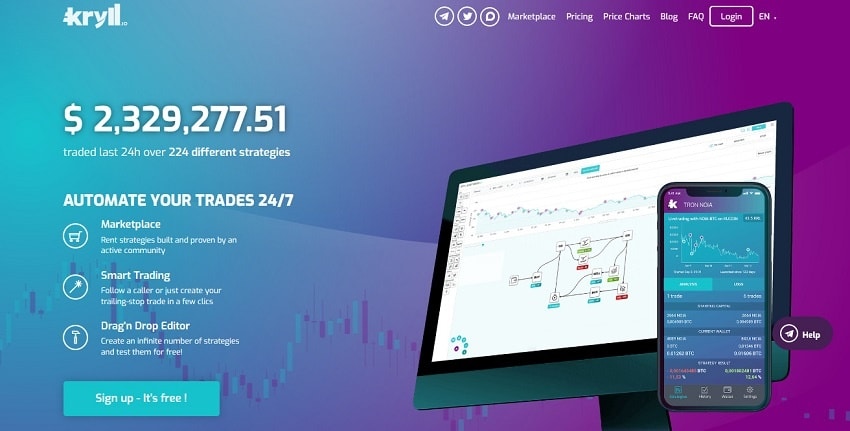 The Kryll platform consolidates its leadership position in automated crypto trading and remains at the top of our ranking of the best crypto bots and Bitcoin robots 2021.
Its knowledgeable team is constantly adding new features, new metrics for traders to use as well as a wider choice of trading strategies for hire in its marketplace.
Kryll is available in English, French and Spanish.
Among the news for 2021, Kryll has integrated Binance Futures in its trading robots.
A product that was eagerly awaited by users of the platform in order to automatically trade Bitcoin futures but also Ethereum futures and other cryptocurrencies available on Binance Futures.
Terminal trading has been improved with the ability to change the entry point/TP/SL directly on the charts.
Traders have a wide choice of technical indicators to create their trading strategies on the graphical interface which works in drag and drop mode.
A beginner in crypto trading is assisted by the Kryll platform which provides guides and tutorials.
In addition to features like smart trading and grid trading, you have indicators such as SuperTrend, Commodity Channel Index (CCI), On Balance Volume (OBV), stop loss, take profit, Ichimoku, automatic trade, Bollinger, Macd , RSI, CandleStick blocks and Candlestick Patterns…
Once your trading strategies are ready, all you need to do is connect them to your account on the crypto exchange where you want to auto trade.
The Kryll platform allows to connect an account via an API key on Binance, Binance US, Kraken, FTX Exchange, HitBTC, Kucoin, Bittrex, Liquid.
Trading strategy tests are free and UNLIMITED, a technique called backtesting, you only pay when you switch to real mode.
As a reminder, in real mode, Kryll does not charge a monthly subscription, you only pay when you use your crypto bots on the markets.
To run the crypto trading bots, the platform uses the KRL token which you can buy on Kucoin, the trading pairs are KRL/USDT and KRL/BTC.
An increasingly complete and improved marketplace in 2021

The Kryll marketplace offers trading strategies for rent to traders who do not have enough time to devote to it, but also for the general public and individuals who can thus copy trading the best traders on the platform. .
A novice trader can hire a trading strategy in order to observe how professional traders work and how they have developed their automated trading strategy.
Just select the strategy you want to rent, with a few clicks, the automatic trading strategy is installed in your account and is ready to be launched immediately.
You do not have to do anything else, Kryll trading bots will automatically place buy and sell orders on your account as they are set up in the trading strategy programmed by the trader you have chosen to follow.
People without trading knowledge can thus benefit from automated crypto trading thanks to the skills of professional traders who provide their experience and expertise in this area.
Professional traders who praise their trading strategies are compensated for the use of their strategies by users, an effective way to earn money and generate passive income.
An iOS and Android mobile application is available to monitor your account and your trading strategies.
The Kryll platform is audited regularly by an external company to check its security, your account is protected by a 2FA security code.
Beginner, professional trader or individual, this is the best automated trading platform on the market in our opinion.
Opening an account on Kryll is free: click here to open an account and get a 30% discount on fees for 15 days with this link!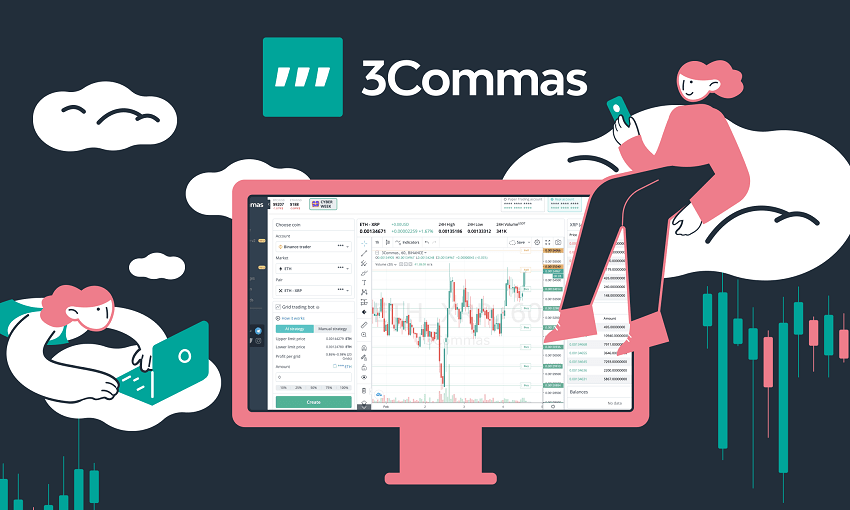 3commas in second place on the podium of the best Bitcoin trading bots for 2021.
One of the strengths of 3commas is the number of crypto exchanges with which its crypto and Bitcoin bots can automatically trade, 22 exchanges:
Binance, Binance US, Binance DEX, Binance Futures (Smart Trade, Algorithmic Bots, GRID bots), Bitfinex, Bitmex, Bitstamp, Bittrex, Bybit, Bybit Testnet, CEX, Ethereum Wallet, Exmo, FTX Exchange, Gate.io, Coinbase Pro, Hitbtc, Huobi, Huobi US, Kraken, Kucoin, OKex, Poloniex, Yobit.
An automated trading platform available in English.
3commas offers a very complete crypto bot creation interface, with many technical indicators available for professional and novice traders.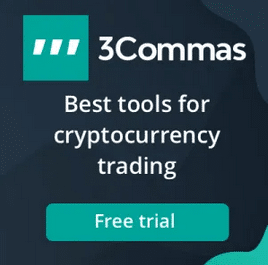 A somewhat austere user interface that allows you to create a powerful and complete Bitcoin trading robot.
Smart trading, Grid trading, Ichimoku, DCA bots, take profit, stop loss, Bitcoin Futures, TradingView, the platform offers many options and indicators to create a crypto bot suitable for all types of trading.
No major new features in 2021, we will note an option to create a bot using a template of a signal provider, as well as an option to display the profit statistics of a signal provider, with time filtering directly on the main page of the marketplace.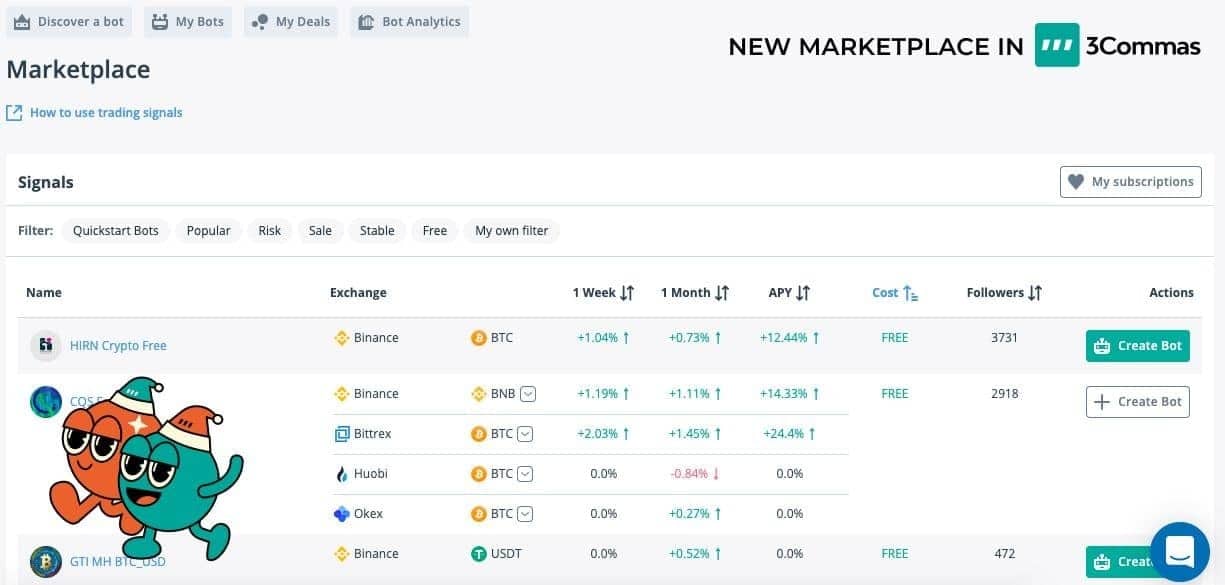 A marketplace that allows you to benefit from the skills of other traders and copy trading if you don't have technical knowledge in crypto trading or if you simply don't have the time to create a trading strategy.
For individuals or novice traders, you can receive trading signals automatically on your 3commas account.
The marketplace offers you to receive trading signals from experienced traders, you just need to select and set up trading according to the recommendations of the signal provider in your account.
A trading signal is a trigger for a buy or sell action of a cryptocurrency like BTC, ETH, XRP, LINK, etc.
You can apply this signal to your trading bots on 3Commas, the incoming signal determines the start time of the trade for the selected strategy and trading pair.
A paid marketplace service that allows novice traders to follow the top traders on 3commas, traders providing trading signals are paid a percentage of the services paid by those trading signals users.
3commas also has a mobile app for iOS and Android.
Access to 3commas crypto bots and Bitcoin robots is by monthly subscription, there are different plans, prices vary depending on the options you want.
There is a reduction on long-term subscriptions, a free trial offer is available to new subscribers.
If you would like to test 3commas trading bots for free: click here.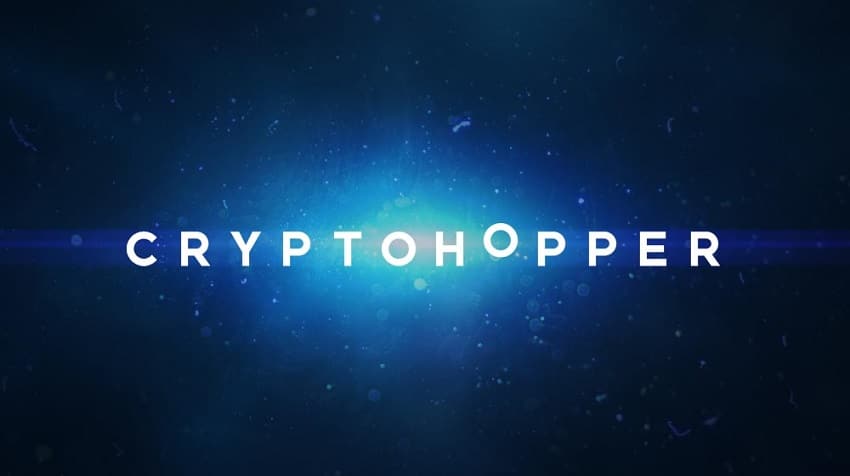 In 3rd position in this ranking of the best crypto bots 2021, Cryptohopper is a platform that offers a complete interface allowing you to create a crypto trading bot or a Bitcoin robot from A to Z.
Cryptohopper trading bots and Bitcoin bots are available in English.
Cryptohopper allows automatic trading of BTC and cryptocurrencies on 13 crypto exchanges connectable via an API key including Binance, Binance US, Bitpanda, Hitbtc, Coinbase Pro, Bittrex, Huobi, Kraken, Kucoin, Poloniex, Bitfinex, OKEx et Bitvavo.
Present since 2017, this automated crypto trading platform has been modernized over the years to offer, like its competitors, a graphical interface that works in drag and drop and allows you to create your crypto trading bot by assembling blocks.
An automated crypto trading platform that also allows you to create an arbitrage bot between exchanges, market making, trailing stop loss orders, dollar cost averaging (DCA), short selling, mirror trading.
The Cryptohopper marketplace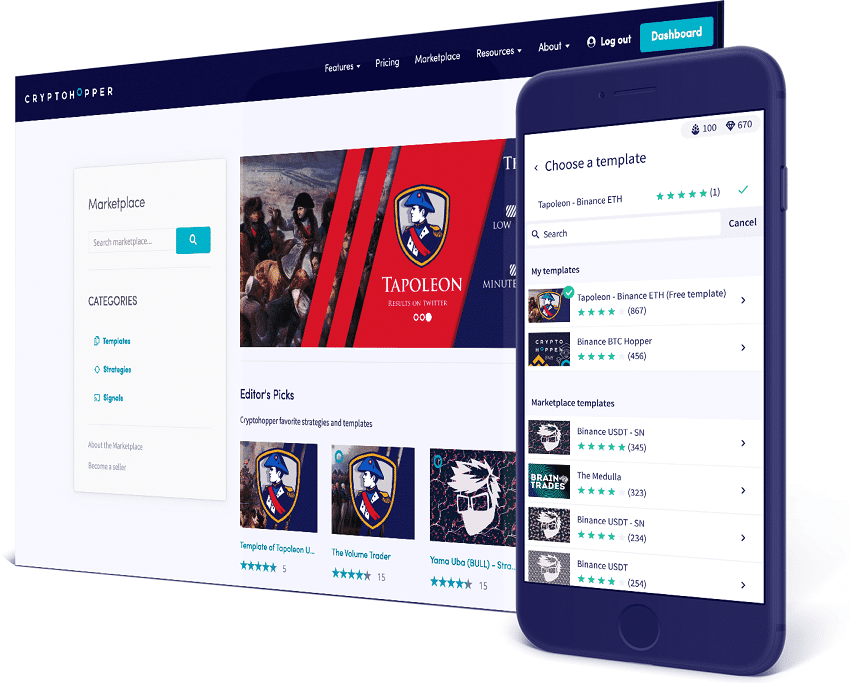 With the growing success of social trading and copy trading, Cryptohopper offers a marketplace where you can subscribe to trading signals, buy bot strategies and patterns.
Intended for novice traders or individuals who do not have trading skills, this marketplace therefore allows you to follow the best traders on Cryptohopper.
Traders who provide trading signals are paid from users who pay to use their auto trading signals and strategies.
A Cryptohopper mobile application is available on Apple iOS and Android.
Access to the platform and the creation of Bitcoin trading bots is by monthly subscription, prices vary depending on the options you want to have.
Opening a cryptohopper account is free: click here.
Haasbot and its crypto bots have been present since 2014, available in English, a platform aimed at professional traders.
The platform has of course evolved to offer more modern features such as a new HaasScript 2.0 Drag-and-Drop visual editor.
Haasbot offers a large selection of crypto exchanges with which its Bitcoin robots and crypto trading bots can auto-trade:
Binance, Binance Futures, FTX Exchange, Bitfinex, Bitstamp, Bittrex, Bitmex, Bitpanda, CEX, Coinbase Pro, Deribit, Gemini, Hitbtc, Huobi, Ionomy, Kraken, Kraken Futures, Kucoin, Nova Exchange, OkCoin, OKex, OKEx Futures, Poloniex.
There is no marketplace or copy trading on Haasbot yet, nor an iOS/Android mobile application, but the site announces the arrival of HaasOnline Cloud which will offer a marketplace as well as copy trading.
With these new features, Haasbot could reach the top 3 of this ranking.
This crypto bots platform makes up for it by making it possible to trade Bitcoin futures on Binance Futures, Kraken futures, OKEx futures, Bitmex, Deribit.
Access to Haasbot trading robots is by monthly subscription with discounts over 3, 6 and 12 months.
If you want to test these crypto bots, open a free account on Haasonline: click here.
5. Zignaly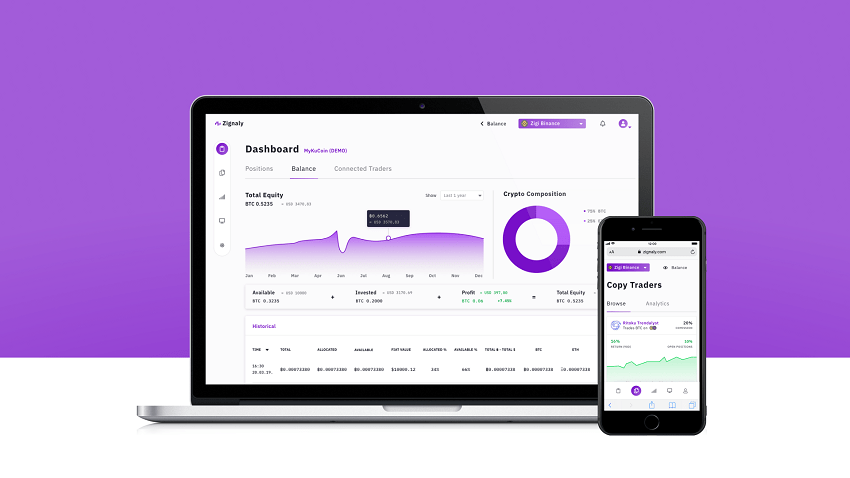 Zignaly is positioned more as a copy trading platform and trading signals provider than a platform to actually create a crypto trading bot from A to Z, but it does offer a trading terminal.
The interface is available in English, Spanish, Polish and Vietnamese.
There are few crypto exchanges compatible with Zignaly crypto bots: Binance, Bitmex, Kucoin et VCCE..
Concretely, the platform offers the following services:
Copy Trading (Social trading)
You can automatically copy the activity of pro traders and essentially let them do the work for you.
Once you've connected your trading account, all you need to do is select the trader you want to follow and choose the maximum amount of funds you want to use.
Zignaly will automatically replicate the trading activity of the trader you are following, ensuring that your results match those of the trader.
Trading signals
With Zignaly, users have access to numerous buy/sell signals from a number of reputable trading signal providers such as Mining Hamster Signals and Crypto Quality Signals.
Users can also try different signals to see which ones are best for them, there are free trading signals, you will have to pay for the best ones.
Trading terminal
The Zignaly trading platform has a trading terminal that you can use to create comprehensive trading strategies with simultaneous orders on the same trade balance.
This includes stop-loss, take-profit, trailing stop and more.
Overall, the trading terminal is a free crypto trading bot that you can set to your own specifications and let you trade 24/7 for you automatically.
Access to Zignaly services is free, click here to open an account.
Conclusion
2021 is shaping up to be a year that should see the Bitcoin price rise sharply and attract many new traders and individuals to use the latest generation crypto trading bots and bitcoin robots featured in this ranking of the best crypto bots.
Kryll consolidates its first position with its complete platform and professional technical support, new features are constantly added by its hard-working team.
Then follow 3commas et cryptohopper which also allow the creation of complete crypto trading bots.
Haasbot offers an interesting platform which is aimed primarily at professional traders but still lacks a mobile application, marketplace and copy trading services.
Zignaly has a very basic platform, with far fewer options and features than the other interfaces in this 2021 best crypto trading bots ranking.
The best thing to do is to try different crypto trading bot platforms to see which one is best for you.
TO READ ALSO: