3commas is one of the main crypto bots and Bitcoin robots on the market and present in our list of the best crypto trading bots 2020.
In this crypto trading bot review, we will see in more detail its main functions, advantages, disadvantages and operating prices.
3commas is an automated crypto trading platform launched in 2017 that offers Bitcoin trading robots and professional crypto bots.
The crypto bots are hosted on the cloud, you have nothing to install on your computer.
There is no information about the team, just a random photo and a Canadian address.
3commas says it has more than 120,000 users worldwide.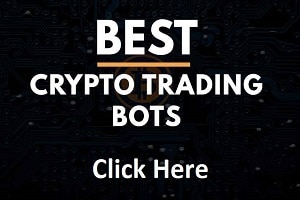 The crypto bots are available in English, French, Spanish, Portuguese, Korean, Russian.
There is also a marketplace with trading signals to do copy trading and a mobile application on iOS and Android.
Main functions and options of the 3commas crypto trading bot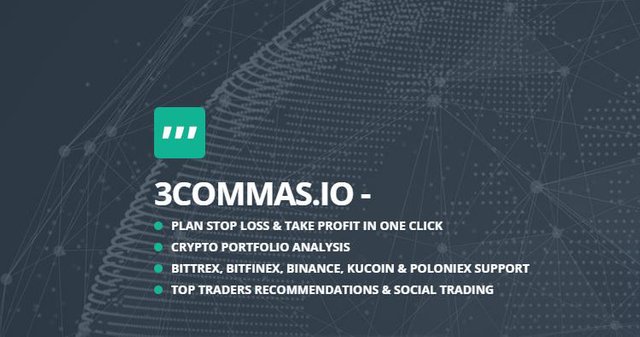 24/7 automatic trading
Strategy designer with drag and drop interface
Smart Trading
Trailing Take Profit and Stop Loss
Smart Cover (Sale and buy back of cryptocurrencies)
Shorting and Longing
Charts and Signals from TradingView
Copy Trading
Fast technical support by ticket system.
Which crypto exchanges are integrated on 3commas?
One of the strengths of this automated cryptocurrency trading platform, a large number of crypto exchanges integrated into the platform.
23 crypto exchanges available on 3commas:
Binance, Binance US, Binance DEX, Binance Jersey, Kraken, Bitfinex, Bitmex, Bitstamp, Bittrex, Bybit, Bybit Testnet, CEX, Ethereum Wallet, Exmo, FTX Exchange, Gate.io, Coinbase Pro, Hitbtc, Huobi, Huobi US, Kraken, Kucoin , OKex, Poloniex, Yobit.
So you can do automatic trading with all these cryptocurrency exchange platforms, 24/7, by connecting your account with an API key.
Using a 3commas trading robot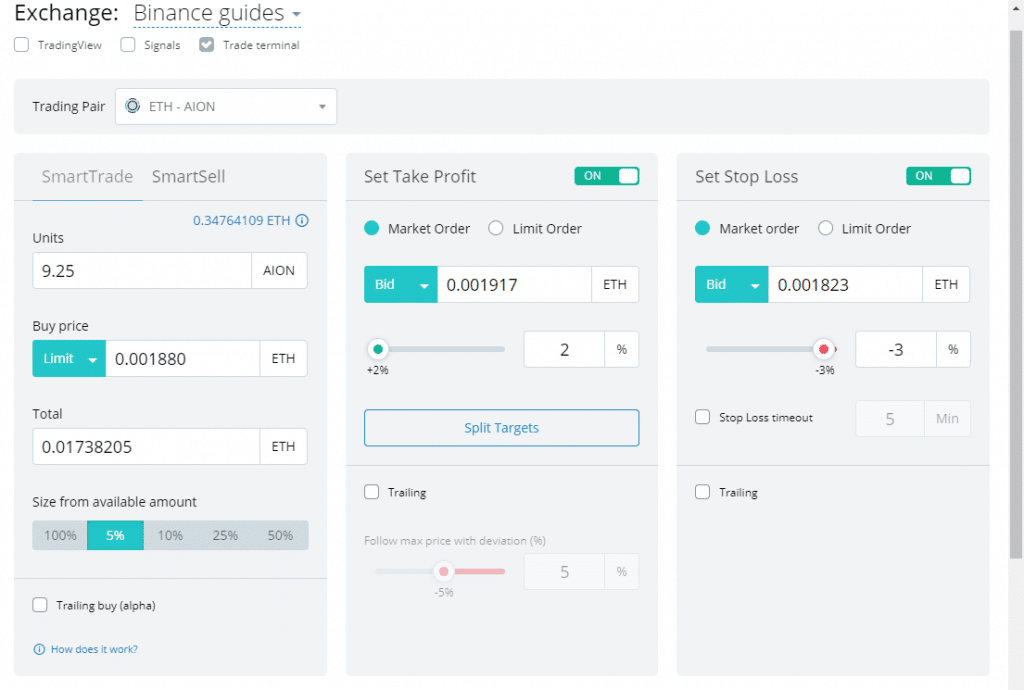 In order to use a crypto bot or a Bitcoin robot, you must create an account on 3commas and pay a monthly subscription depending on the services you want to use.
There is a 3 day free trial offer if you want to test 3commas crypto trading bots.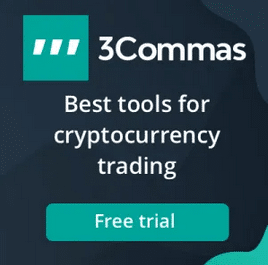 You will then have to connect your accounts on crypto exchanges to 3commas with an API key.
Thus, crypto bots will be able to place buy and sell orders automatically for you on your crypto accounts on Binance, Kraken, etc…
Like its main competitors in automated crypto trading, 3commas has a graphical interface that allows you to build a trading strategy in drag and drop mode.
You will drag elements in order to build in blocks your trading strategy that the crypto bot will have to execute automatically.
You will have many indicators and candle models to create your crypto trading strategies.
3commas crypto bots will allow you to do automatic trading for Bitcoin but also Ethereum, Ripple XRP, Link and other altcoins available on crypto exchanges connectable to the crypto bots on the platform.
There is also an iOs or Android mobile application to track your trading activities in real time.
Copy trading and marketplace on 3commas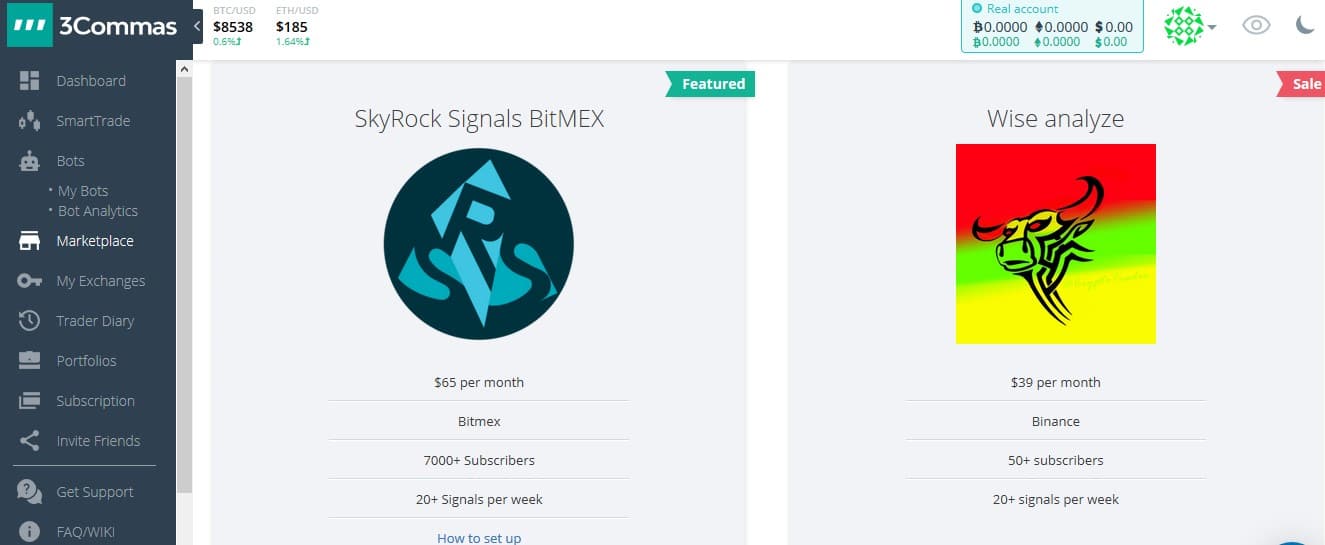 Like its main competitors Kryll and Cryptohopper, 3commas has a marketplace where it is possible to use trading signals.
These trading signals come at a cost and therefore allow you to benefit from the skills of professional crypto traders by copying their trading strategies to your account.
The prices of these trading signals vary between traders, costs which are added to the monthly subscription that must be paid to the 3commas platform.
If you don't have trading skills or if you don't have the time to build a trading strategy, then you can copy the trading signals available on this market place.
If you are a pro trader, this can be an additional source of income and passive income by selling your trading signals on 3commas.
Copy trading and social trading are increasingly used in Bitcoin and crypto currency trading.
What are the prices on 3commas?
As with any professional crypto bot, using 3commas Bitcoin robots has a cost that comes in the form of a monthly subscription of $29 per month up to $99.
Depending on the subscription plan, you have access to certain site features and crypto bots.
You can pay by PayPal, credit card, Apple Pay or cryptocurrency like Bitcoin.
Faced with increasing competition, 3commas now offers a free trial offer for 3 days (7 days on Cryptohopper).
If you want to test 3commas crypto bots for free: click here.
Pros and cons of 3commas crypto bots
Benefits
Available in English, French, Spanish, Portuguese, Russian, Korean
23 integrated crypto exchanges including Bitmex and Bybit for margin trading
Smart Trading
Marketplace and copy trading
Crypto bots hosted on the cloud
Free trial offer
disadvantages
Not very suitable for a beginner
Free trial is just for 3 days
If you want to create a free account and try 3commas: click here.
Conclusion
3commas is an automated crypto trading platform that targets professional traders rather than beginners.
It stands out from the competition with its large offer of 23 crypto exchanges integrated on its platform!
A drag and drop interface, efficient technical support, an iOs and Android mobile application.
3commas also has a marketplace which allows the trading signals of other traders to be used on the platform.
Ideal if you don't have trading skills or if you don't have time to set up a crypto bot.
The best is of course to test the 3commas platform to see if its crypto trading robots meet your needs.
Open a free account on 3commas: click here.
You can also read our selection of the best Bitcoin robots 2020: click here.
TO READ ALSO: