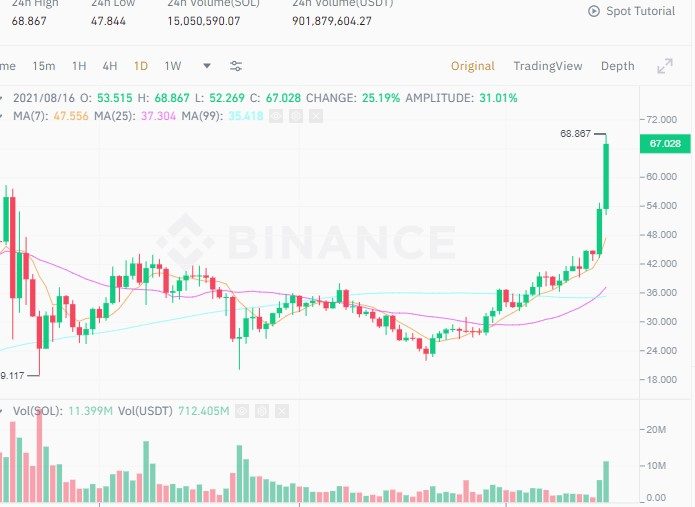 Just like the Cardano blockchain (ADA), the Solana cryptocurrency (SOL) is also on the rise and has reached a new price record on Kraken.
A SOL price currently around $67.52, up 38%, after hitting a new ATH at $68.87.
An increasingly popular blockchain, Solana is a strong competitor to Ethereum (ETH) as well as Cardano.
Competing with Ethereum, these rival blockchains highlight their speed against an Ethereum network still a victim of its success with high transaction fees and slow transaction speed.
Founded in 2017 by Anatoly Yakovlenko, Solana says it can process more than 50,000 transactions per second, rivaling the 65,000 transaction messages claimed by Visa (TPS).
With a bullish crypto market, the rise in the SOL price is surprising given that the Solana cryptocurrency is in the top 10 on Coinmarketcap.
A buying frenzy of SOL tokens therefore propels the Solana price to new heights while the crypto community has its eyes riveted on the Bitcoin price which could soon begin a second phase of its bullish cycle and return to its last high of 60,000 dollars.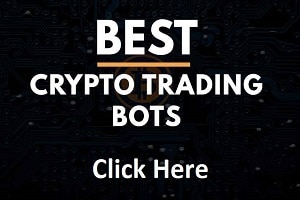 A 522% increase in transaction volume contributed to this new price record for Solana, figures suggestive of the interest of a large number of investors in the SOL token.
Among the news from the Solana ecosystem that could play a catalytic role in this price increase is the recent launch of Degenerate Ape Academy, a non-fungible token (NFT) project built on the Solana blockchain.
It remains to be seen how far the SOL price will go, its impressive price increase has attracted the attention of traders and investors.
Solana SOL token is available on Binance, Kraken, FTX.
TO READ ALSO: