Bitcoin News
Bitcoin BTC price on its way to $100,000 according to latest Bloomberg report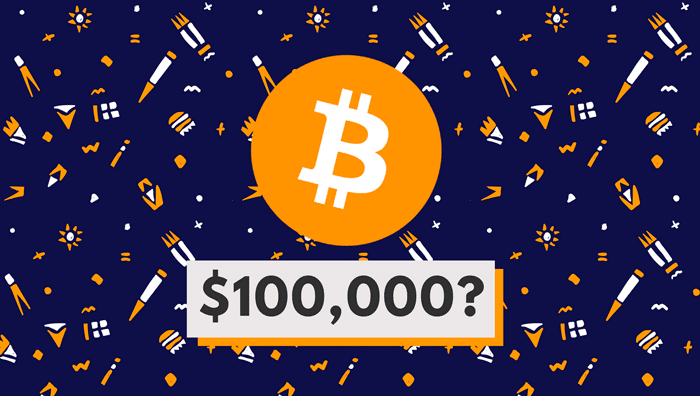 While John McAfee, who has just been arrested in Spain, was known for his prediction of a Bitcoin price at $1 million, other analysts are much more confident in their estimates of the BTC price in the future.
Thus, the latest report from Bloomberg Intelligence analysts is betting on a Bitcoin price of $100,000 by 2025.
If a shorter timeframe could be expected, the analyst behind this report, Mike McGlone, believes that Bitcoin's price rise will take longer and be longer than in previous cycles.
Growing adoption and increasing demand will therefore propel the BTC price to new highs, says this report titled "Bitcoin Trend, Adding Zeros".
One of the strengths that Bitcoin benefits is the fact that its number of units cannot increase and is limited to 21 million BTC tokens, as its creator Satoshi Nakamoto intended.
With a demand that will increase over time, the price of BTC can therefore only go up.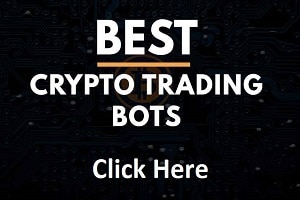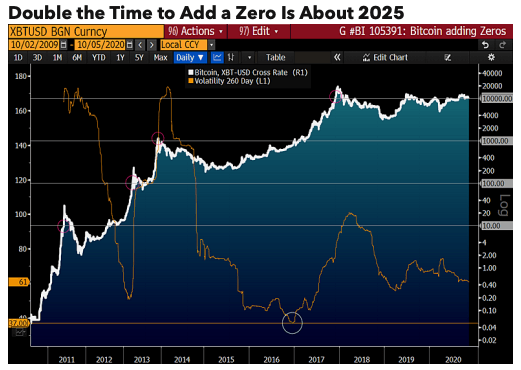 Bitcoin like gold
Another point highlighted in his report, analyst Mike McGlone hints at the fact that Bitcoin should profit like gold from increasing volatility in the stock markets.
"Bitcoin is becoming more like gold.

Bitcoin, like gold, is in transition to benefit from increasing stock market volatility, in our view. In a year when U.S. stock prices hit the highest ever market cap relative to GDP, thanks to the sharpest correction since the Great Depression, it makes sense to expect most assets are increasingly subject to a wobbly stock market." the senior analyst says in his report.
Twice the time to reach $100,000
While some analysts see a bitcoin price reaching $100,000 well before 2025, the Bloomberg report is therefore much more cautious and estimates that it will take twice as long compared to previous cycles.
"If the crypto echoes its past gains, with some maturation, about double the time it takes to add a zero to $1,000 could take its price to $100,000 in 2025."
Bloomberg analysts point to a catalyst that could accelerate the rise in the price of Bitcoin, without knowing what this event could be that would propel the BTC price to new highs in terms of price.
"Still in hangover mode since the 2017 rally, we don't know what specific catalyst could propel Bitcoin to new highs, but demand-versus-supply measures remain positive for prices."
Tether USDT is expected to overtake Ethereum in 2021
Another interesting part of this report is the estimate that Tether USDT should overtake Ethereum marketcap.
Growing demand and the success of stablecoins should therefore propel the stable USDT token just behind the leader Bitcoin BTC.
"Tether's market capitalization is expected to overtake Ethereum in 2021.

The rapid increase in the market capitalization of stablecoins indicates that central bank digital currencies (CBDCs) are a matter of time, in our opinion. It would take something big to curb the growing adoption of Tether, the most stable coin, which is set to equal Ethereum's market cap in just under a year, based on the trend regression since the start of 2019. Our chart shows Ethereum's stagnant market cap since 2017 versus the rapidly rising Tether, which jumped to a new high of almost $16 billion at the start of October." details the Bloomberg report.
If the analyst mentions that something important would be needed to stop the progress of Tether USDT, remember that Tether and Bitfinex are currently facing an investigation by the New York prosecutor for a fraud involving the use of USDT funds by Bitfinex .
However, any prediction is only binding on the person who made it and no one can actually predict the Bitcoin price in the future with any precision.
One can remember the many BTC token price predictions before the crypto market collapsed in 2018 into a long bear market.
The increasing adoption of Bitcoin and cryptocurrencies will indeed drive up the price of BTC in the future.
The general public is more and more interested in crypto trading, in particular using ever more modern and efficient bitcoin robots and crypto trading bots.
If you want to view Bloomberg's detailed report: click here.
TO READ ALSO: