On March 16, 2020, the world stock markets fell by almost 10%, same thing for the American stock market which drops at its opening.
Bitcoin price fell below $5,000 to $4,442 on Binance!
In question, the economic consequences of the Coronavirus/Covid 19 crisis with countries that are completely shutdown like Italy, Austria, Spain and states like New York, California, Las Vegas, Florida, …
Therefore, if a crypto trading bot and a trading strategy can help a trader make money under normal market conditions, they can also help a trader to limit losses in the event of a fall in the financial markets and stock market crash .
We are living in a period and unexpected events, a black swan can happen at any time in the world of stock exchange and trading.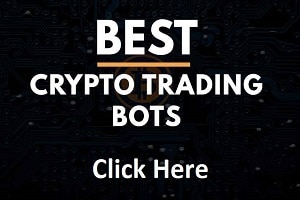 Faced with bad news and abnormal events, the markets can react in a violent and brutal manner with significant price drops.
Which automated crypto trading strategy to choose to deal with this type of market fall or stock market crash that brings with it the Bitcoin price and the prices of altcoins down?
An automated crypto trading strategy on Kryll caught our attention, the Gekko Bot trading strategy which trades the BTC/USD pair on Binance.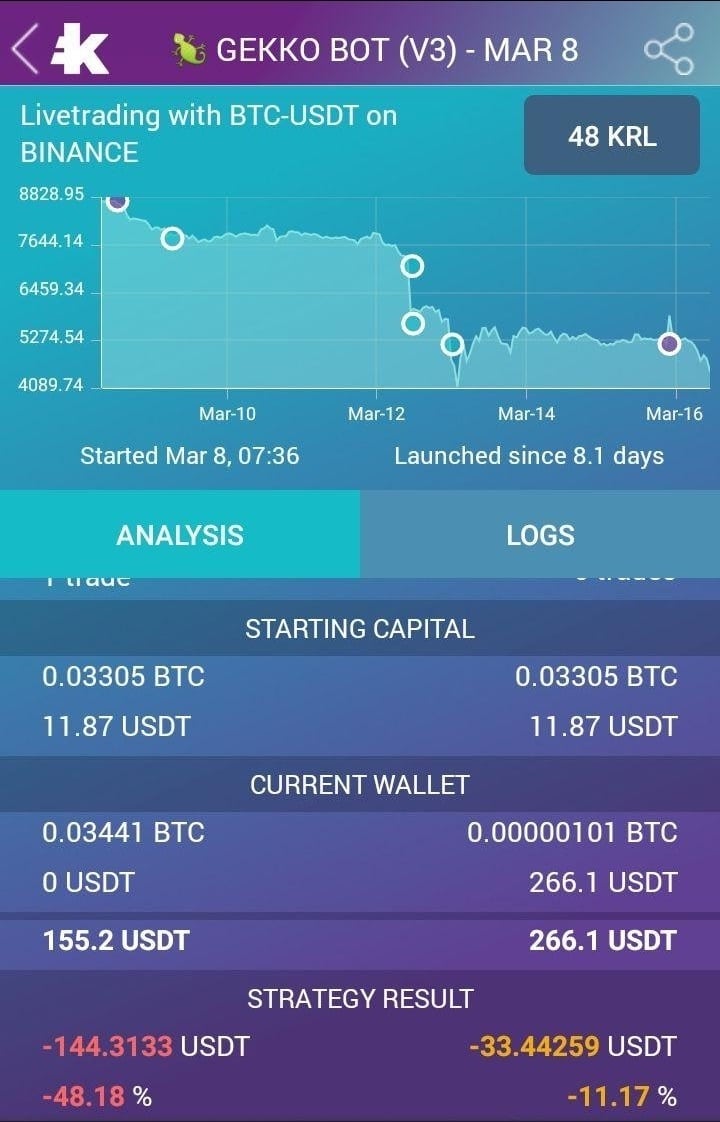 It's no surprise, if you look at the Bitcoin price and the crypto market, you know that the BTC price had dropped by 50% in march due to the current economic problems and the falling stock markets around the world.
Looking at the results of this automatic crypto trading strategy applied by a Bitcoin robot on Kryll, you can see that the crypto bot therefore sold Bitcoin by limiting losses to 11% instead of a total drop in Bitcoin price of almost 50 %!
Knowing that a rapid fall in price can happen when the trader is sleeping or not in front of his screen monitoring the price of Bitcoin or that of another cryptocurrency, you therefore see the advantage that the use of a crypto trading bot and an automated trading strategy.
Without this Bitcoin robot and if this trader wanted to sell his positions at the bottom, it is a loss of 50% that awaited him and not 11% as this Kryll crypto trading bot managed to do.
Faster than a human to place a buy or sell order, the Bitcoin robot or cryptocurrency trading bot can therefore avoid heavy financial losses for a trader in unpredictable market situations which cause rapid and brutal price drops.
Kryll has a marketplace where this automated trading strategy is made available by the trader who created it.
After opening an account on Kryll, any user can therefore use this Gekko Bot trading strategy which will be installed on their account.
The crypto bot will automatically execute the crypto trading strategy to be applied on this BTC/USDT pair.
There are of course other trading strategies available for other crypto pairs like Ethereum, Link, Tezos, EOS, etc.
Automatic cryptocurrency trading is booming thanks to these new automated trading platforms like Kryll which now offer modern and efficient crypto trading bots.
The marketplace also allows you to use trading strategies published professional traders without the need to have knowledge in trading.
Knowing that the worst has not come yet concerning the financial and stock markets, further declines are to be considered as a result of countries like the US or Europe which will be at a standstill for perhaps 2 months!
Crypto bots and Bitcoin robots can therefore be an asset in dealing with this abnormal and difficult market situation in trading.
Check out our selection of the best crypto trading bots: click here.
TO READ ALSO: