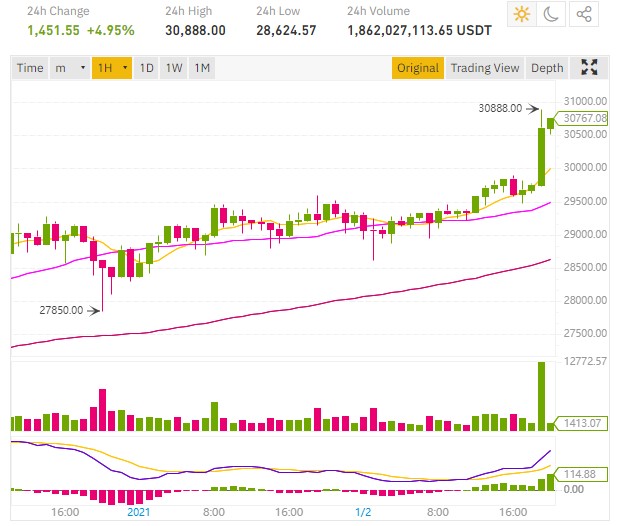 This is a symbolic new number that the Bitcoin BTC price has just crossed: $30,000
A very eventful start to 2021 therefore, the BTC price had already reached a new high on New Years Day, to pulverize today the level of 30,000 dollars by reaching almost 31,000 dollars on Binance and Kraken.
A Bitcoin price which therefore continues to rise without a significant correction, we should however see the BTC price correct in the future in order to absorb this so large and rapid rise.
By breaking through these new price levels, Bitcoin price is in uncharted territory and it is impossible to know how far it will continue to rise.
Institutional investors are the novelty of this new bull cycle for Bitcoin, they are now buying BTC by billions of dollars.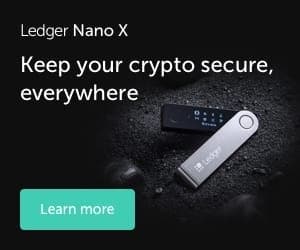 The Ruffer fund has already bought BTC for $745 million.
Guggenheim plans to buy Bitcoin for $500 million.
US insurer MassMutual bought it for $100 million.
The Grayscale fund has just announced that it now holds more than $20 billion in Bitcoin and other cryptocurrencies.
12/31/20 UPDATE: Net Assets Under Management, Holdings per Share, and Market Price per Share for our Investment Products.

Total AUM: $20.2 billion$BTC $BCH $ETH $ETC $ZEN $LTC $XLM $XRP $ZEC pic.twitter.com/YKb6T8htGx

— Grayscale (@Grayscale) December 31, 2020
A start of 2021 full of surprises, therefore, with these new price records for Bitcoin that will please all the bitcoin holders.
The Ethereum price follows the movement of bitcoin and passes the $750.
The Litecoin LTC price at $130.
The XRP price at $0.23.
The Algorand price (ALGO) and the DOGECOIN price show good increases.
With an altcoin market that will still have to wait, the attention of buyers and traders is focused on BTC, a move up that continues to surprise.
The Bitcoin price is currently around $31,280.
TO READ ALSO: