Bitcoin News
Bitcoin BTC price continues to fall and drops to $30,000!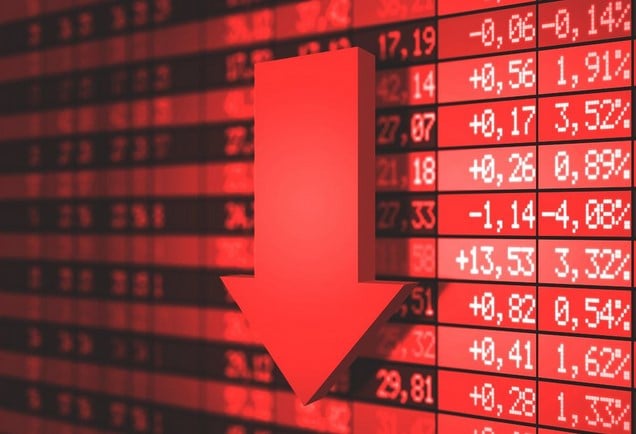 The carnage in the crypto market began this morning as the Asian market opened, with Bitcoin BTC falling to the $38,000 level.
The US session came to end this chaotic day for the BTC price which fell to 30,000 dollars on Coinbase.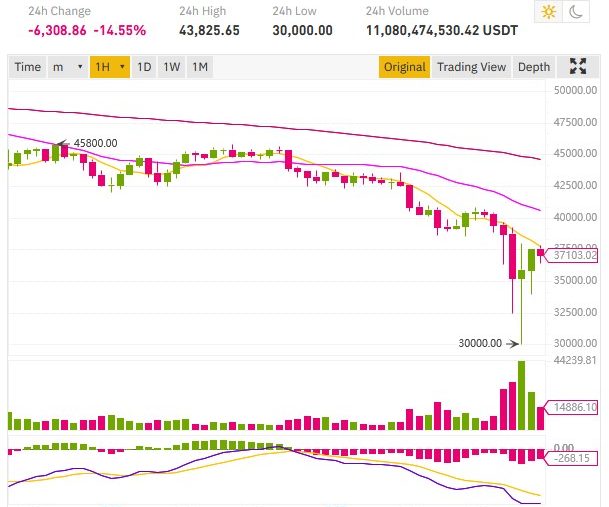 If a further drop in the Bitcoin price was possible, it was clearly surprised by its magnitude, causing altcoins to drop by more than 50%!
A real carnage therefore for many traders and investors who were able to panic and who sold under the pressure of this downtrend that surprises when we discover the volatility of the BTC price and the crypto sector as a whole.
Some traders were hoping for a rebound this morning, hundreds of thousands of them were liquidated following the rapid decline in the price of Bitcoin in the markets.
Liquidations of positions that would amount to $8 billion following this crash in the BTC price.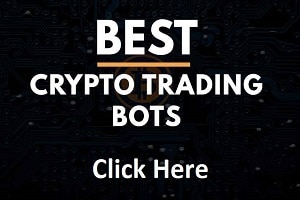 As usual, in this kind of extreme situation, some crypto exchanges like Binance or Coinbase were unavailable due to increased traffic from users who all wanted to access their accounts.
Altcoins take a hit
Collateral victims of any Bitcoin price crash, altcoins have paid dearly for this fall in the crypto market, with falls of more than 50%!
The Ethereum price fell to $2,888.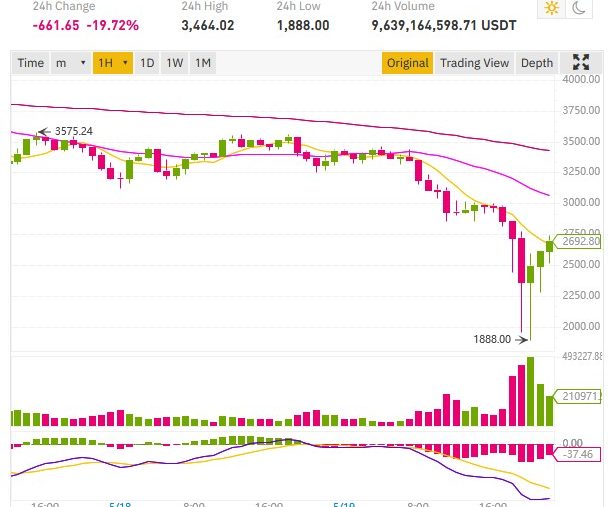 The BNB price was on sale at $280!
The Dogecoin (DOGE) price fell to $0.21, much to the dismay of Elon Musk fans.
The Ripple XRP price is already back at $1.16, after falling to $0.85.
The Cardano ADA price has dropped back to $1!
The LINK price has revisited the level of $21.
The price of DOT has plunged to $18.
You can find the prices of cryptocurrencies in real time and in dollars on our site: click here.
With the BTC price falling of such magnitude today, it's a safe bet that we have hit the bottom of this dark day for the crypto market.
Elon Musk, in his own way, posted a message on twitter implying that with Bitcoin, Tesla owns diamonds.
Tesla has 💎 🙌

— Elon Musk (@elonmusk) May 19, 2021
An Elon Musk who is behind the start of the Bitcoin price drop following two previous tweets that have driven the crypto market down.
A crypto community that has had a cold sweat today and is hoping that this bad time is over.
A Bitcoin price still feverish and currently rebounding around $37,513 on Kraken.
TO READ ALSO: